After being in the IT industry for over 20 years, we can be confident in saying that we've got a strong grasp on the problems faced by our customers. Unfortunately, a lot of our customers come to us after being left in dark by previous IT contractors. To mitigate the potential issues arising from an unreliable IT contractor, we share with you our five things you should be looking for from your IT contractor.
Hiring the right candidate and understanding what to look for is a challenge faced by all businesses. Knowing what to look for can save you a significant amount of time and money. So, when it comes to hiring an IT contractor, what specific factors should you look for?
Skills match
It sounds obvious but the first area to seek confirmation on is whether the skills and qualifications advertised by the candidate do in fact exist. Look for a candidate with verifiable records, of their achievements and skills. This may be through both documentation and referees who provide a clear and accurate description of their observation of the applicant in the workplace.
Cultural fit
When speaking with the applicant, ensuring that you have an understanding of the people that they may be chosen to work with in future, and overall dynamics of the team(s) that they will be required to engage with, is important. Can this person easily adapt to their style to suit different personalities? What types of people has this person worked with in the past? Can they adapt their style for various personalities when and if needed? Your understanding of these dynamics will assist you in being able to identify the right candidate for the role.
Proven track record of delivery
It is also important to understand whether the applicant has a proven record of delivery and who can provide a clear picture of what that delivery looked like in practice. It is also advisable to seek out candidates with referees who can not only verify but also give honest feedback about their overall experience with respect to the candidate's delivery of the work.
Willingness to learn (no matter what their age or experience level is)
A candidate with a willingness to learn is a fantastic asset. Generally speaking, in IT, the landscape is continuously changing and as such, candidates need to be able to adapt and learn willingly in order to perform their roles. Look for candidates with a sense of curiosity, who for instance, ask meaningful questions about the type of work that they will be performing, their potential team, what the delivery expectations will be. A candidate who shows this level of curiosity is also demonstrating their understanding of the evolving nature of the industry, the importance of familiarising themselves with the stakeholders that they will be communicating with and a genuine desire to perform well in the role.
Positive influence
Finally, seek out candidates who display the ability to positively influence or contribute to the organisation. Do they have evidence of well established and positive relationships in their previous role? What is there demeanour like? Seek out candidates who display a willingness to do more than just their day-to-day role and instead seek to connect and make positive contributions through their actions.
We know that finding the right IT contractor can be difficult, so be sure to consult this list when you're looking at your next candidate. If you want to chat to us about our contracting solutions, call us today: 1300 ICT AIT (428 248)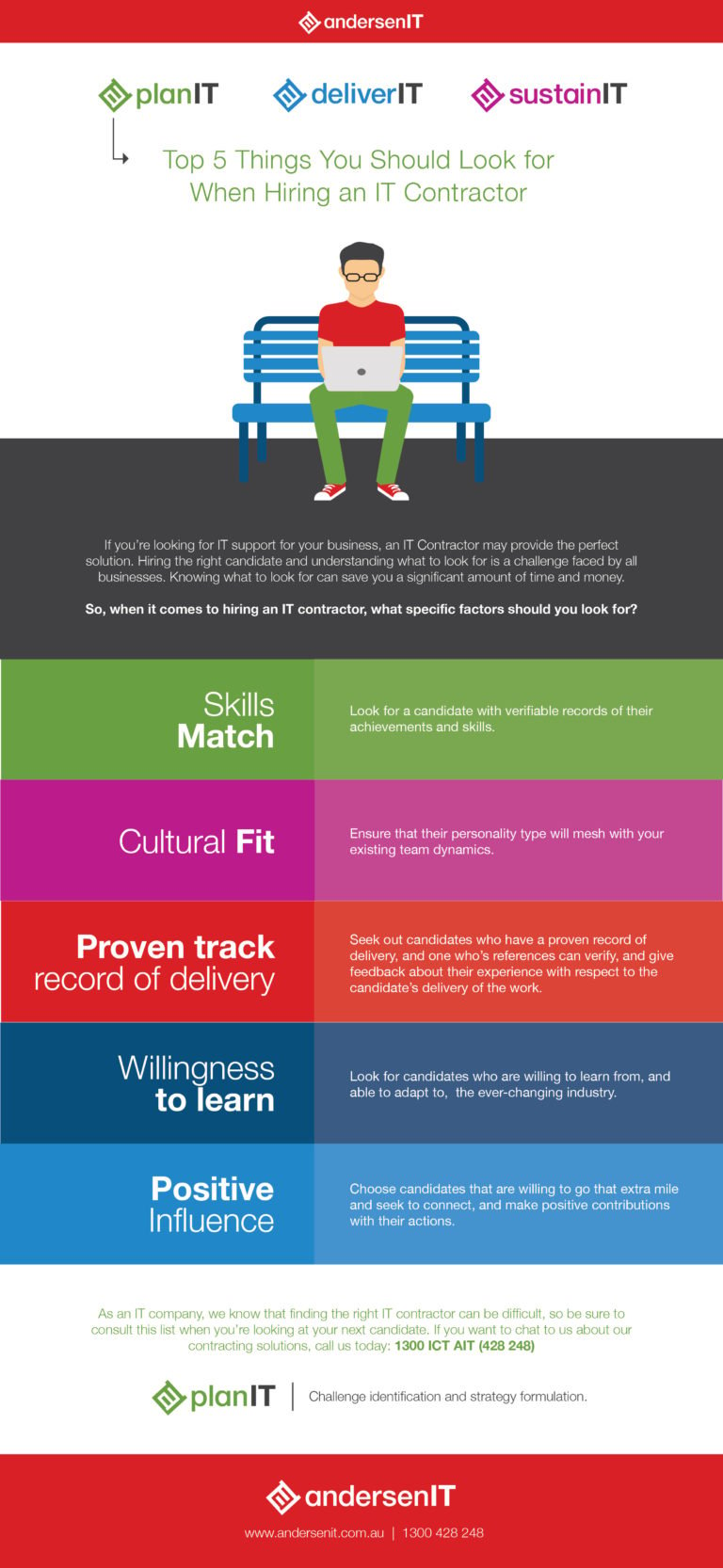 Back to Top